Storm Damage Roof Repair and Gutter Repair Services
We Help You With Your Insurance Claims!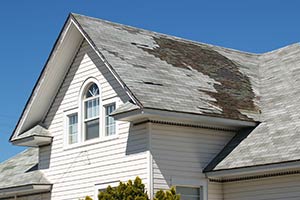 We're all nervous after a storm passes, wondering if it has affected our home or business. Typically, most weather systems will pass by without even causing a heavy rain. Yet, from time to time, we will have to deal with serious issues from the latest storm.
When your roof suffers damage due to a storm, you can't wait for the weather to let up before making repairs. Water entering your home can cause serious and expensive structural damage. The professional roofers from Royal Roofing Construction are specially trained to locate storm damage and take quick action to minimize the entry of water.
We'll return when the weather calms down to make a full assessment and recommend additional repairs. In many cases, we can restore your roofing system without the expense of a complete roof replacement.
The Company to Call On for Expert Storm Damage Repair
Royal Roofing Construction also has experience working with insurance companies and adjusters, and can help coordinate your insurance claim to make sure you receive the full compensation to which you are entitled. This includes complete documentation of storm damage and repair estimates for insurance purposes.
After 30 years in business, there isn't a storm that we haven't lived through, and that means that we have seen and repaired all types of damage. This may be the first time that you've ever have had to file a claim. We can help eliminate the stress and assist you with the entire process.
Fast, Professional Storm Damage Response
Royal Construction Roofing is here no matter if you need comprehensive roof repair, or you are simply looking for gutter repair services. We take our jobs very seriously and won't you leave alone during this stressful experience. Trust the repair and restoration of your roof to the professionals at Royal Roofing Construction. Call (714) 680-0015 for a fast and professional response to storm damage.