Gutter Replacement, Repair & Cleaning General Contractor
The Best Gutter Repair & Replacement Services for Your Orange or Los Angeles County Property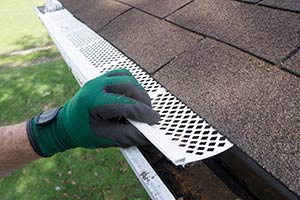 A well-designed roof keeps water from entering your home and transports rainwater to the roof's edge. From there, a quality gutter system finishes the job by conducting the water down and away from vulnerable areas. Without gutters, water spilling off the roof will cause damage to siding, windows, doors, landscaping, concrete and masonry, and the foundation of your home. Water pooling around your home's foundation can stain walls, rot wood framing, flood the basement and even crack a cement foundation.
Don't let poorly working gutters damage your home. Get them repaired or replaced today.
Why Gutters Are So Important
A properly functioning gutter and downspout system from Royal Roofing Construction is essential to prevent water from entering your home and causing flooding and structural damage. Gutters and downspouts must be the right size to accommodate large volumes of water without filling up and overflowing, all while looking proportional to your home. Our roofing systems include a seamless gutter system that is properly designed, fabricated and installed to provide the necessary capacity to handle almost any amount of runoff. We offer gutter services to Orange and Los Angeles county residents, including:
Gutter replacement
Gutter repairs
Gutter protection systems
Inspections & cleaning
Don't wait until your gutters start causing issues for the rest of your home. We offer free estimates on our services. See how we can help you with all your gutter repair, cleaning and replacement needs.
Trust Your Home to a Professional General Contractor
Royal Construction Roofing has the most experienced craftspeople in the area. We work on all types of commercial and residential properties. Make sure your gutters are ready to protect your home from the elements. Contact us for a free estimate today by calling Royal Roofing Construction at (714) 680-0015 or completing our online quote request form. Schedule your free estimate today!