Experienced Roofing Company Serving Orange & Los Angeles Counties
Leading Roof Repair & Re-Roofing Services for Residential & Commercial Customers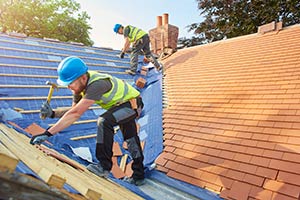 Royal Roofing Construction has been a leading roofer for nearly 30 years. We offer expert re-roofing and roof repair services to residential and commercial customers throughout Orange and Los Angeles counties, and focus on helping you maximize the life of your investment.
Quality is of the utmost importance to us. We are licensed and insured with general liability and workers' compensation insurance.
A Reputation Built on Roofing
At Royal Roofing Construction, our expert roofing services have made us one of America's top roofers. Working on the top (your roof) is what put us on top, yet you can look to us for plenty of other contracting services as well!
Your satisfaction is always important to us, and we will work to make sure you are always happy.
Residential Re-Roofing
You count on the integrity of your roof to keep you and your home protected from the elements. Every roof has an ideal lifespan; when yours is up and you need the best quality, service and price for your new roof, Royal Roofing Construction can help. We specialize in all tile and shingle materials, as well as flat roofing, to make sure that you and your family are fully protected for as long as possible.
Commercial Roof Replacement
As a commercial building owner or manager, you need to make sure that your property remains in the best condition to protect your investment and prevent problems with your tenants. Royal Roofing Construction's extensive experience with all types of flat roofing will ensure that you receive the quality you need.
Roof Repair
Extensive exposure to the sun's harsh rays, strong Santa Ana winds, fire danger, storms and more can leave even the best roof in need of repairs or maintenance. We can help you maximize the life of your roof while maintaining its integrity with our top-notch repair and maintenance services.
Satisfaction Guaranteed
Royal Roofing Construction wants to be your roofing company of choice. We will work closely with you to ensure that you are happy every step of the way.
Contact Us Today!
Royal Roofing Construction provides roofing, replacement windows, doors, siding and other home improvement services throughout Orange and Los Angeles counties. Contact us today to learn about how we can help you. Call us at (714) 680-0015, or fill out our online form to get started. Thank you for choosing Royal Roofing Construction!