Full-Service Roof Repair & Maintenance Services
A Local Roofing Company Providing Assistance to Residential Customers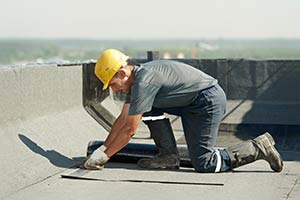 Proper care of the roof on a home can reduce long-term repair costs and greatly extend its service life. Royal Roofing Construction is the residential roofer that offers the most extensive choice of scheduled roof maintenance programs to extend the life of your roofing system – at a fraction of the cost of replacement. We will fully inspect your roof and diagnose any issues, and then put together a repair plan to ensure that you remain leak- and damage-free.
Extend the Life of Your Commercial Roof
Routine maintenance is the key to a commercial roofing system that performs well over many years, providing the protection you need for the people and property inside. Our roof maintenance experts will conduct a professional inspection and assessment of your roof's current condition and recommend any repairs that are immediately necessary. We will then work with you to develop a scheduled maintenance plan that meets your annual budget needs while addressing the critical issues of roof integrity and ongoing performance.
Royal Roofing Construction has experience in the maintenance and repair of all commercial and industrial roof types, including single-ply membranes, modified and built-up roofing, metal, tile and asphalt shingle roofs.
Let's Talk About Your Commercial Roof Repair & Maintenance Needs!
Royal Roofing Construction is the roofing company to turn to for all your roofing needs. We have been serving the local community in Orange and Los Angeles counties for over 30 years. Let's discuss your upcoming project during our free consultation. We'll happily inspect your roof and determine the best solution to repair or replace it – all for free. Contact us for a free estimate today by calling (714) 680-0015 or completing our online quote request form. We look forward to working with you!